Open Stores, Takeout Dining & Curbside Pickup*
---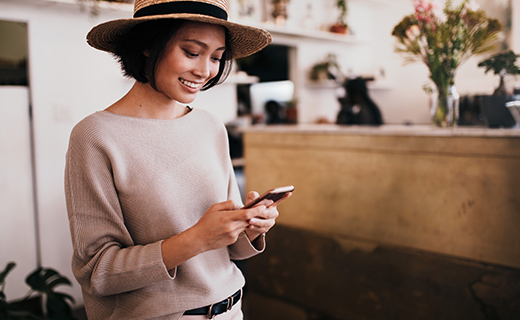 Center Hours: Monday - Saturday: 11am - 7pm. Sunday: 12pm (noon) - 6pm.
We continue to promote a healthy shopping environment for our guests and employees through intensified cleaning procedures and proper social distancing signs. We've missed you and look forward to seeing you again soon!
Retailers Offering In-Person Shopping:
America's Best Contact & Glasses: (718) 685-3981
Ashley Furniture Homestore: (929) 282-0500
AT&T: (347) 935-3601
Atlas Park Dental: (718) 894-2110
BabyBlue: (718) 210-9744

Bobbi & The Strays: (718) 326-6070. By appointment only.
Cooper Beer Garden
Davita Dialysis: (718) 326-2789
Five Below: (718) 326-2052
Flynn & O'Hara Uniforms: (718) 326-2704
Foot Locker: (718) 894-2748
Forever 21: (718) 894-0358
Frankie's Playce: (347) 242-3144
HomeGoods: (718) 894-1324
Hooked: (347) 527-1635
Little Pulp: (718) 578-5408
Momo: (718) 668-5991 *new location-103
New York Sports Club: (718) 326-2228
Paisley Bridal: (718) 326-5700. By appointment only.
Spectrum: (888) 406-7063
TJ Maxx: (718) 326-2158
Ulta Beauty: (718) 326-4968
White House | Black Market: (718) 326-0235, click here for specific hours

Curbside Pickup:
Need Something Now? Pull up. Pop your trunk. Leave with your purchases!
Curbside Pickup is now available daily for select retailers and restaurants. Contact the store directly to find out merchandise availability, payment options, and to place an order.
Easy Steps to Curbside Pickup:
Coordinate purchase details and Curbside Pickup time with participating merchant
Follow the signs to our predetermined Curbside Pickup location and park in one of the numbered spaces.
Once you've arrived contact the retailer and give them your parking space number.
Remain in your vehicle. An employee will bring your purchase to you and place it in your trunk.
Thank You for Curbside Shopping!
Please remember to stay in your vehicle while you wait for your package.
Hours:
11am - 7 pm Monday-Saturday

Noon - 6pm Sunday


Location:
82nd street and the center green. It is the section in front of Forever 21.
Contact the following retailers for availability and curbside pickup information:
Five Below: (718) 326-2052
Flynn & O'Hara Uniforms: (718) 326-2704
Spectrum: (888) 406-7063
ULTA Beauty: (718) 326-4968
Takeout Dining:
Please contact the following restaurants for availability and menu:
Auntie Anne's: (516) 754-1775
California Pizza Kitchen: (718) 894-9400. Takeout, curbside, and delivery via Postmates.
Chili's: (718) 366-4272. Takeout and Delivery.
Cold Stone Creamery: (718) 386-3835. Takeout and delivery via Doordash, Seamless, Grubhub, Postmates.
Menchie's: (718) 704-4952. Takeout
Pot Noodle: (718) 666-5298. Takeout and delivery.
Starbucks Coffee: (718) 416-1521. Up to 5 people at a time, mobile app orders encouraged.
Subway: (929) 328-2987. Takeout and delivery
*Subject to change