2nd Annual Autism Awareness Action Day 2019
April 27, 2019 12:00 PM - 5:00 PM
|
The Shops at Atlas Park
---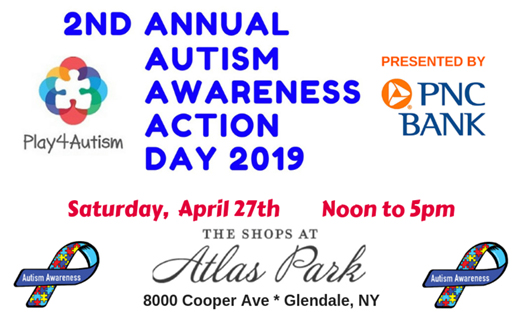 Join us for a day of spreading AWARENESS & ACCEPTANCE
There will be fun and games for all to enjoy!
Autism and Special Needs Informational Booths, Face Painters, Live DJ, Car Show, Vendor Tables, Food and Drink, Star Wars Light Saber Demonstrations, Brooklyn Cyclones Table and Mascots, Police and Fire safety info raffles and more!!
Click for more information. Call Greg for vendor opportunities or more info (718) 440-9863/www.play4autism.org.
Entrepreneurs, Find Your Place
Now through February 20, 2020
Whether you are looking to start a new business or you need an affordable location for your current ...