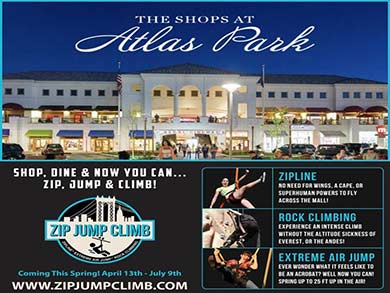 Zip, Jump & Climb at Atlas Park!
Now through October 9, 2017
Featuring NYC's only Zipline Attraction with 3 different challenges, Zip Lining, Rock Climbing, and Extreme Air Jump!
Zipline: No need for wings, a cape, or superhuman powers to fly across the mall!
Rock Climbing: Experience an intense climb without the altitude sickness of Everest or the Andes!
Extreme Air Jump: Ever wonder what it feels like to be an acrobat? Well now you can! Spring up to 25 feet in the air!
Hours:
Thurs – 4-10pm
Fri – 4 – 10:30pm
Sat – 12 – 10:30pm
Sun – 12 – 7pm
For more information, visit www.zipjumpclimb.com